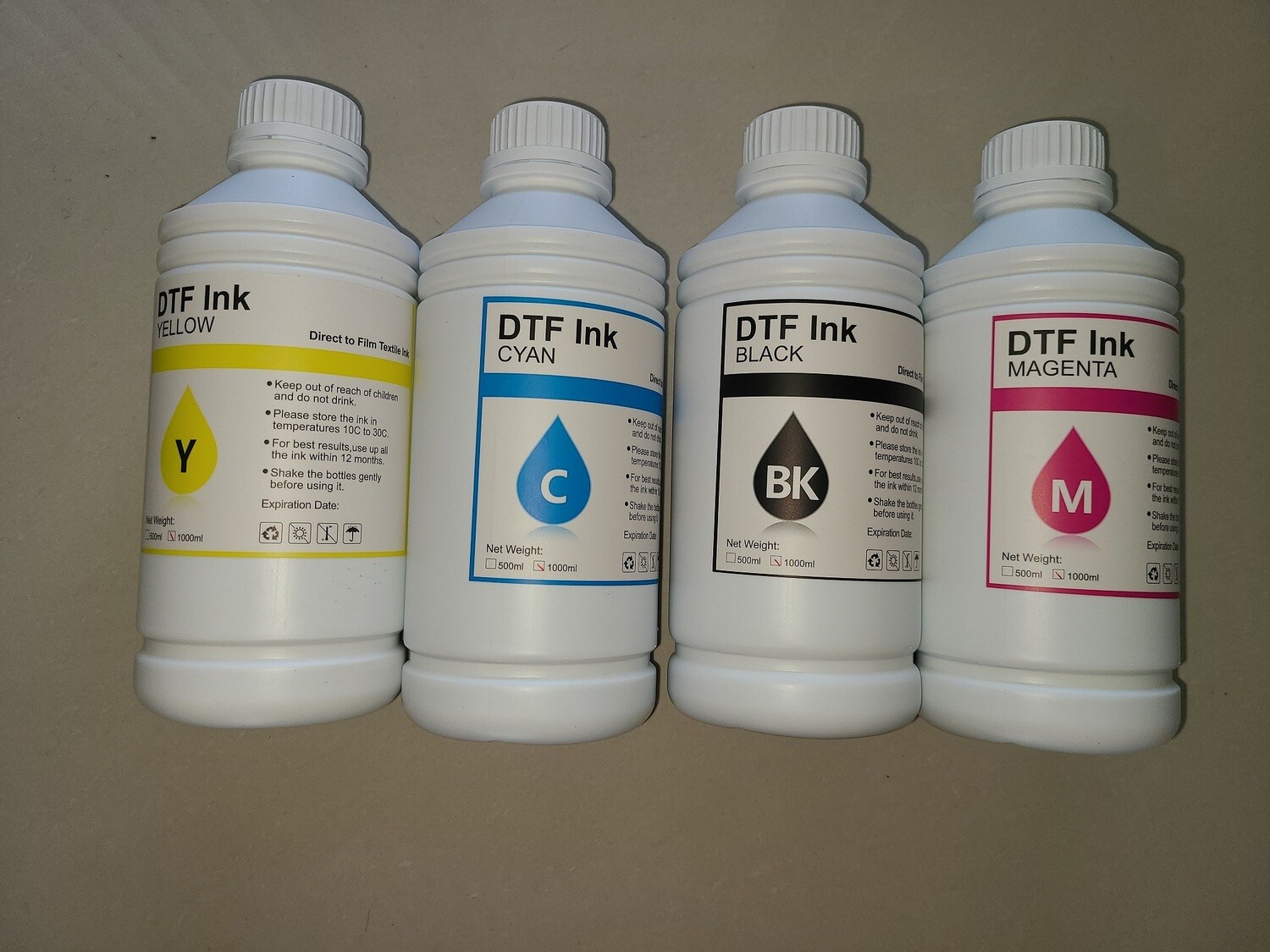 4 Color 1000ml ink liters CMYK no white, DTF PRO Direct to Film Textile
SKU N/A
Product Details
4 liters set 1000ml ink liters set of CMYK no white, Buy a Complete set of 4 Liter CMYK Inks. (Black, Magenta, Cyan and Yellow) for DTF PRO Direct to Film Textile
1 Liter (33.8 oz) bottles of Garment Printer Ink are for all Garment Printers using bulk ink systems including the DTG, Neoflex, Fast T-Jet, Veloci-Jet, TexJet, FreeJet, IDot or any Epson Based Garment Printer

Description:
4 Liters 1000ml inks for liter of CMYK no white.
Truly the best color gamut we've ever seen. In fact, it's everything you've been asking for in DTF PRO Direct to Film Textile ink.
The Textile Ink for DTF PRO Direct to Film Textile engines is engineered to be durable and intense in color output making it the best choice for professional DTG printers.
Fabric inks leverage proprietary ink dispersion technology with a 20-year history of ink development and manufacture, bolstered by decades
of coating technology. The result is an exceptionally large color gamut, a more reliable high-quality image with outstanding shelf life with a soft,
natural feel, as well as better in-printer performance.
Save this product for later
Return Policy
All returns must be approved by M&V Technology. Call 7866266550 for return authorization.

The item must be unused and in original packaging. If we cannot resell it, do not return it.

The item must be received by M&V Technology within 30 days of the invoice date.

Returns are subject to a restocking fee of 20% or $10.00, whichever is greater.

Credit will be issued promptly after inspection by M&V Technology.